heston blumenthal's perfect pizza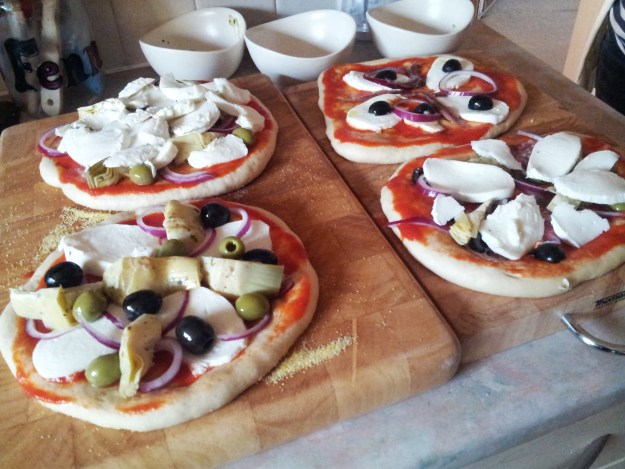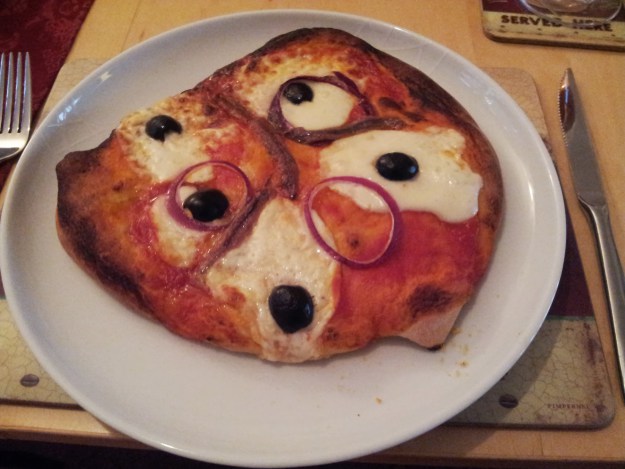 Let me be clear: this isn't Heston's recipe for perfect pizza. But it is my approximation of it.
Driven on by In Search of Heston's go at the pizza, I felt it was about time I tried it. As they had gone boldly before I took their suggestions and incorporated into this pizza recipe. I was particularly drawn to recommendations to skip the pre-ferment stage (which involves making a proto pizza dough a day before) and avoiding his fiddly and salty tomato sauce.
In tribute to In Search of Heston's write-up, this post will be written in their style, with photos aplenty and the obligatory ingredients hero shot. So without further ado…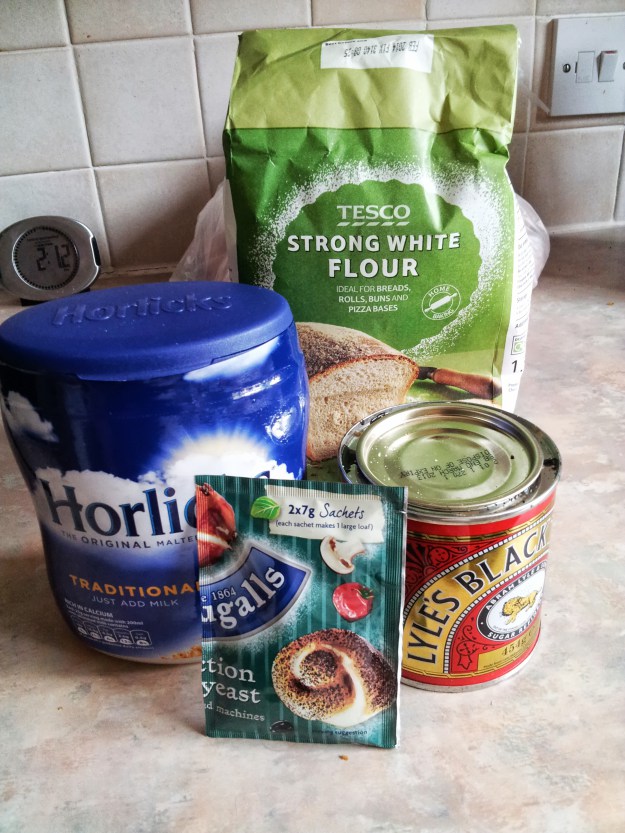 The ingredients shot. For the base, anyway. Heston's recipe calls for malt extract. ISOH liked the malt extract but you need half a teaspoon (!) for this one recipe. And is really obscure. So a little research down the baking sites led me to believe that malt extract gives a malty / yeasty flavour, with a little sweetness thrown in. So why not Horlicks and black treacle?
And surprisingly Tesco's bread flour has exactly the protein count Heston requests, 12%.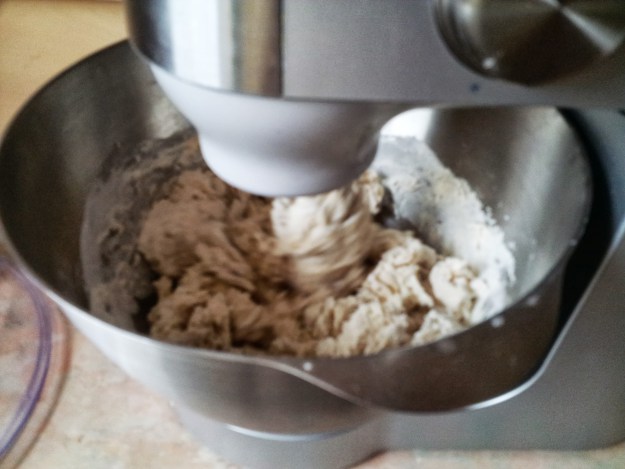 Into the mixer on a low setting they go. Confusingly the recipe mixes everything with water, it's left to prove, and then the yeast is incorporated. I have no idea why it's done in this order. I wouldn't bother next time and just bung it all in. I also used the Paul Hollywood idea of leaving the water cold to let it expand slowly and naturally to develop the flavour.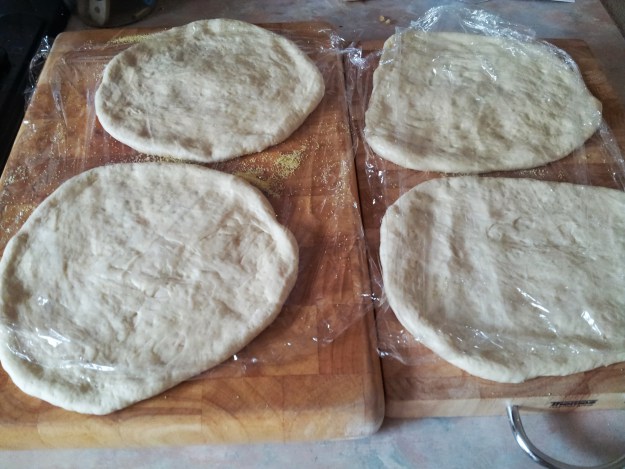 After kneading, rising, proving and shaping I'd made 4 9 inch pizzas of varying roundness. I've done this a lot so I've got a bit of a knack for pinching and stretching until there's a neat shape.
While they proved, I could get on with the tomato sauce. I have a version of Gennaro Contaldo's I really like, but this time I had a secret weapon: San Marzano tomatoes. Heston has banged on about these a few times, but finally I've found that Tesco do them. For £1 a tin. Brilliant! A quick simmer gives them a volcanic red colour (ironic, as they are harvested from Vesuvian soil).
And here are the pizzas ready for the oven. I let people roll their own, I went fairly minimalist at the back there. Look at that goat's cheese mountain on the left!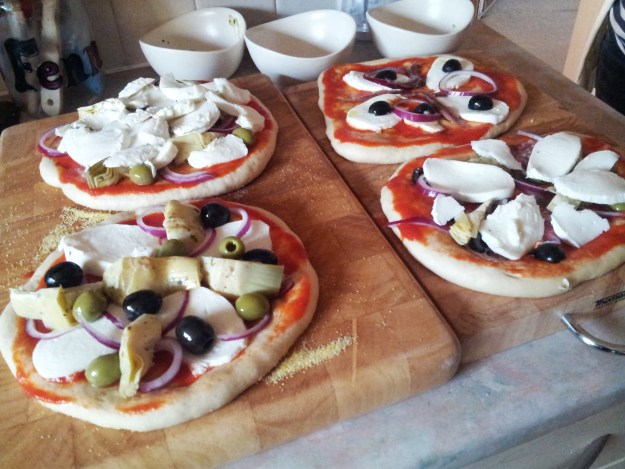 Still the issue of cooking them remains a problem. Heston suggests a pan on the hob, followed by a grilling, but electric grills run off a thermostat which will cut out every so often. So I just went for an roasting oven with a pizza stone and upturned cast iron pan in. I could also only fit two in at a time, so cooked them in shifts. My oven got to 255°C, but after taking two out and putting the next two in, it plummeted to 220°C. It told in cooking the next two, as cooking time went from about 4 mins to 6 mins.
So how was it? The base was certainly just right: chewy, bready and with a pleasing crisp. And the tomato paste was great – San Marzanos are worth the hype. But the oven temperature just can't get that puffiness that great pizza demands. I've dreamed of building a pizza oven in the garden for a couple of years now but just kinda lacking the vision to go and do it. That would be the perfect way.
Until then, this recipe it pretty darned good.
Thanks to In Search of Heston for the inspiration.
Want to know more about Heston and his recipes? Check out my Heston ingredient infographic.
Perfect pizza (serves 4):
For the dough:
500g bread flour
1 teaspoon salt
1 7g sachet yeast
1 teaspoon Horlicks
1 teaspoon black treacle
250ml water
For the tomato sauce:
2 tins San Marzano tomatoes
2 cloves of garlic, crushed
Balsamic vinegar
Toppings as required (I went for mozzarella, olive, anchovy and red onion but your call)
Combine the dry ingredients in a large bowl, stir the treacle into the water then combine in a food mixer on it's lowest speed until it comes together. On a work surface knead for 10 minutes until elastic and pliable. Leave in the bowl with a drizzle of olive oil and cover. Leave for 2 – 3 hours until at least doubled in size.
While the dough rises, make the tomato sauce. Get a frying pan very hot and add a splash of oil. Crush in the garlic and them immediately add the tomatoes (caution: there will be spitting and sputtering). Add a dash of balsamic, and a pinch each of salt, sugar and pepper. Reduce over a fast heat until you can leave a trail through the thick sauce. Check for seasoning, pass through a sieve and put aside until needed.
Put the oven on top whack, and put a pizza stone or cast iron pan in to warm up – you should allow at last 45 mins for this. Beat the dough back down, divide into 4 and stretch and press into rounds. Cover and leave for another 30 minutes. (I dusted my chopping board with polenta so it would slide off easily).
Smear tomato paste over the pizzas, then top as required. Place into the oven until puffed up and brown, about 4 mins. Eat immediately.