restaurant review: pizza express, basildon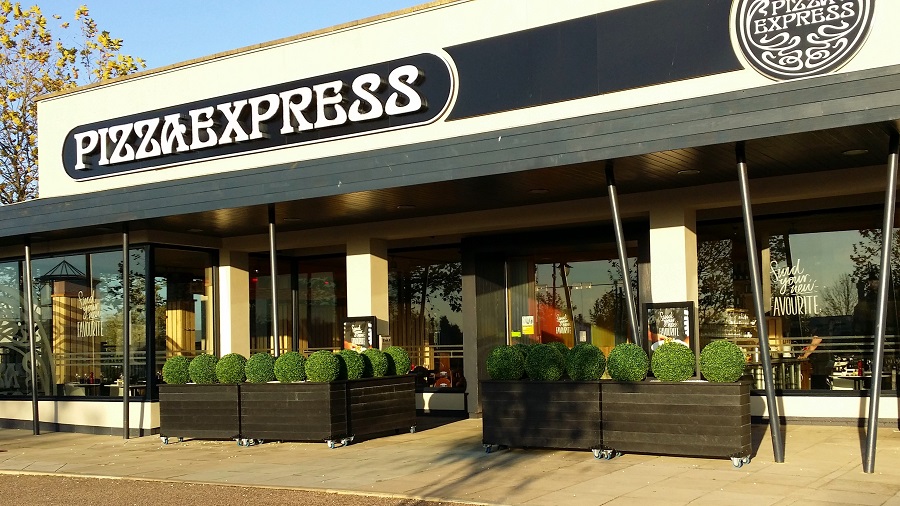 I find it really hard to dislike Pizza Express. It has commoditized one of my favourite foods, whilst retaining a sense of Italian authenticity and breeziness that gives it charm. I went along to the glamour of Basildon's Festival Leisure Park (lovingly called Bas Vegas by us locals) to try out some of the new items on their menu.
Pizza Express do a good deal for children. They get a cute little hat, a detailed activity sheet and crucially, stickers. That keeps my littl'un busy for the entire meal. The food choices are good, her choosing a perfectly nice pasta bolognese.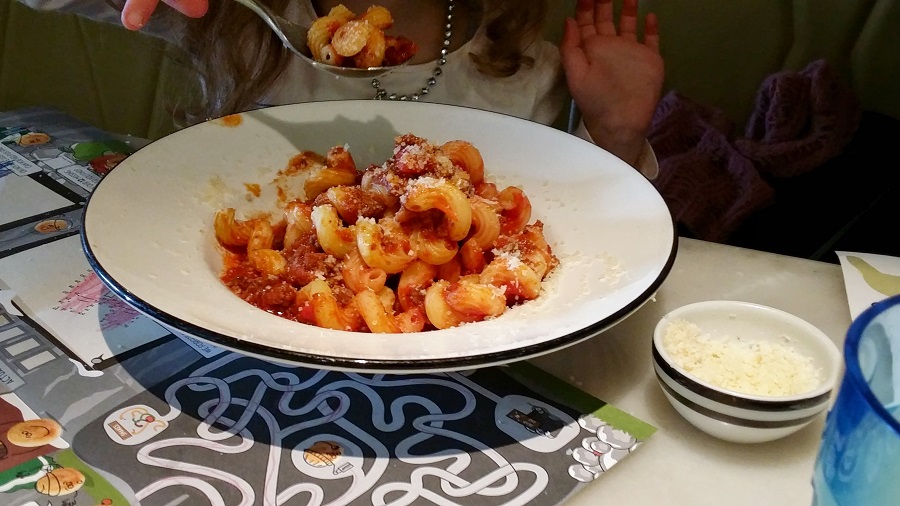 She particularly enjoys the (complimentary) babyccino, a frothy milk drink. The only sticking point I have is in the lack of starter variety in the children's menu – dough balls three ways. If I give her a bread starter, she won't touch anything else in the meal so I didn't order any. I'd prefer something like crudites and dip, or soup.
On to the grown up food. We shared a plate of antipasto things. These can be really perfunctory, but these were all excellent samples: a creamy, firm mozzarella, punchy, sweet tomatoes, heavily seasoned meats and chewy, garlicky breadsticks.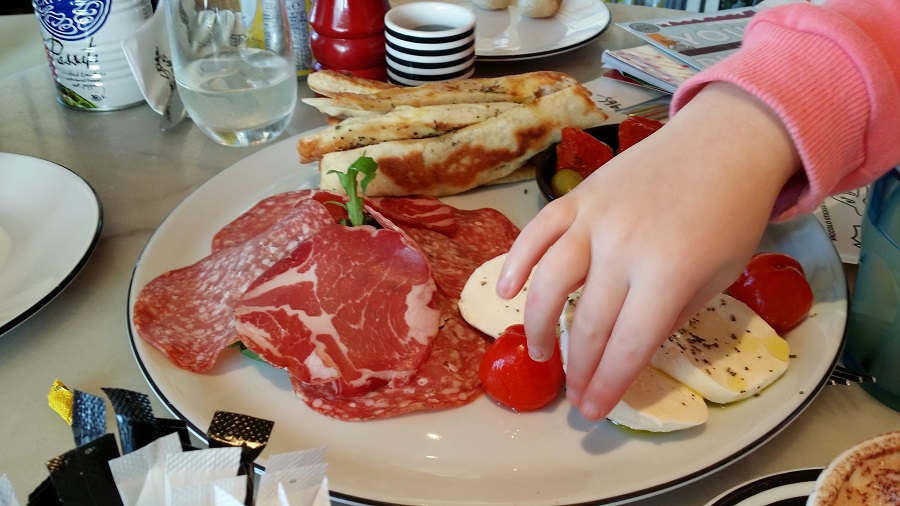 To no surprise, the main events are the pizzas.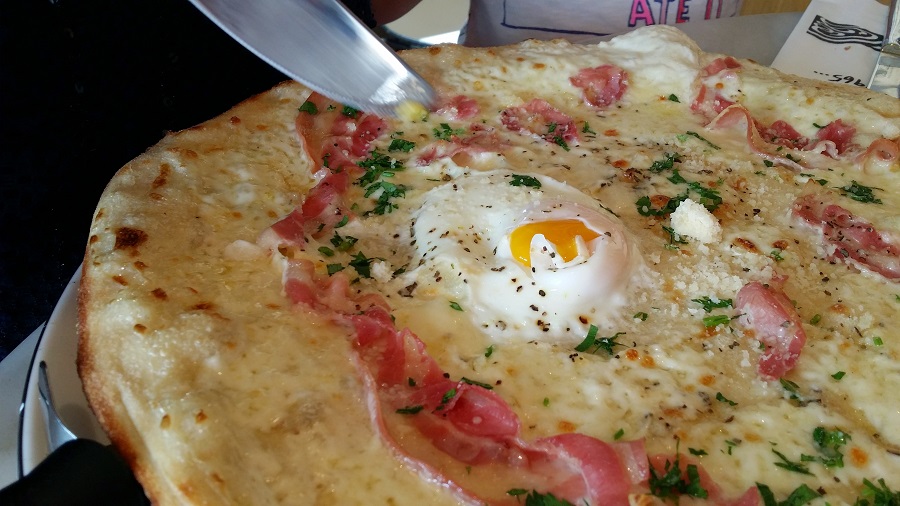 The carbonara pizza immediately caught Mrs. Spud's attention, topped with plenty of parmesan, lightly smoked pancetta and a whole poached egg with runny yolk. She enjoyed it a lot but did find it a little sickly towards the end.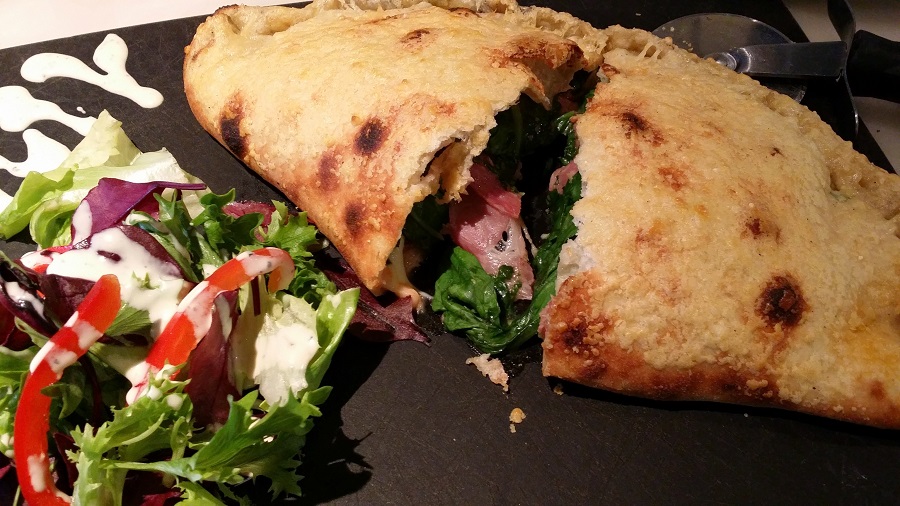 I ordered the manly calzone classico, although as the waiter wandered off I realised I didn't actually know what was in it – I was praying it wasn't baked beans and pineapple. Thankfully beans must've gone off as I had parma ham, spinach, marinara, mozzarella and cherry tomatoes encased in a golden parmesan crust. The result was much lighter than the usual doughy calzones, with the barely-cooked spinach refreshing with every mouthful.
On the side we had some broccolini, which I would hoover up miles of: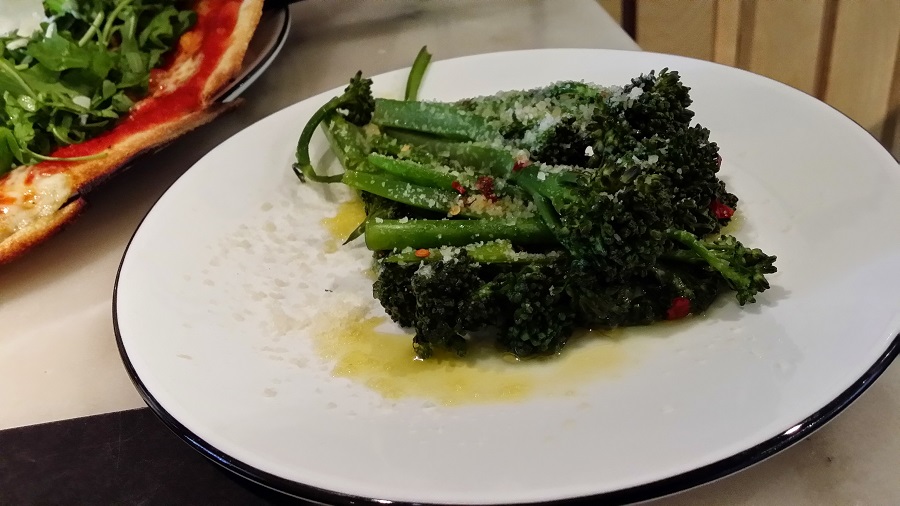 This is coated in a garlic and parmesan butter and dotted with chilli flakes. Utterly moreish.
Somehow we made room for a dessert between us.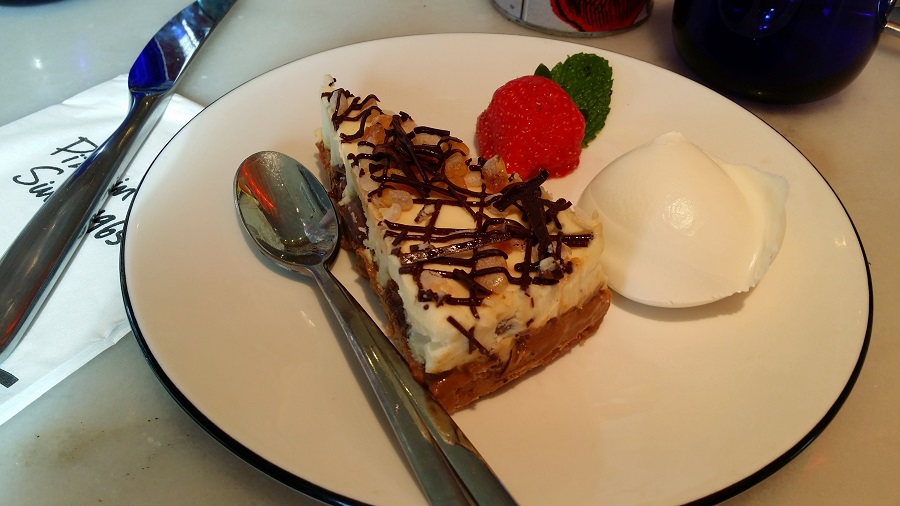 This honeycomb cheesecake is super-indulgent, creamy and packed with little chocolatey honeycomb nuggets. I also enjoyed having mascarpone on the side, a nice velvety touch.
Pizza Express really get a chain right. There's consistency wherever you go but they do seem to care about the food. I really enjoy the pizzas there and the atmosphere is light and airy. Consider me a fan.
Want another view? Try Tinned Tomatoes' Pizza Express review.
Prefer home-made pizza? Here's my perfect pizza, and a lovely slow-roasted tomato pizza.
I was invited to try Pizza Express for free, and if they thought for a moment I was going to write a positive review regardless of my experience then they're stupid. Luckily for them it turned out well.