slow-roast tomato and pesto pizza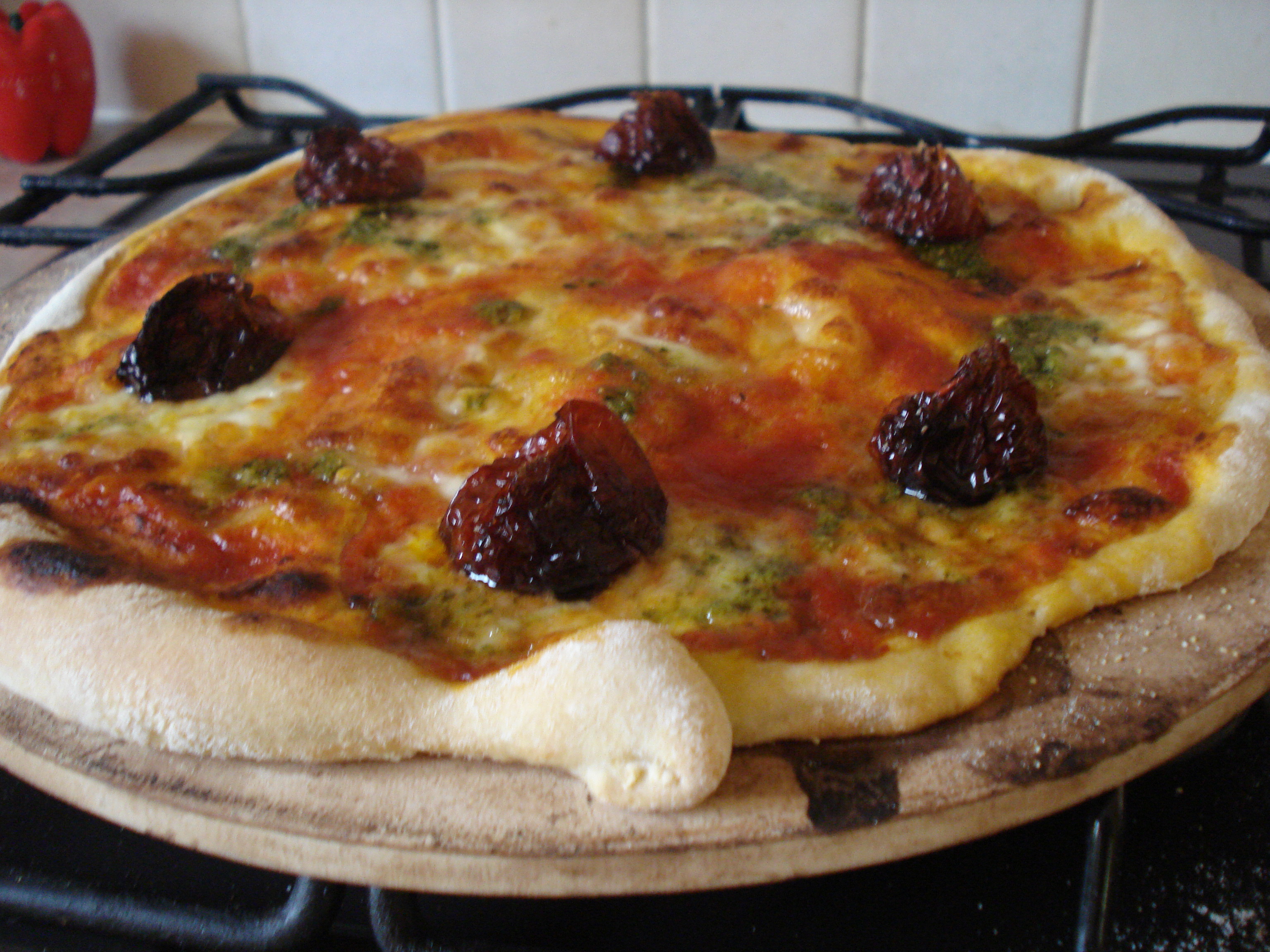 One of my favourite things about food blogging is finding new people who have other ideas that inspire you. I happened upon Bangers & Mash, and wouldn't you know it – it revolves around family food which is a constant topic of mine. Via a link on the Brabantia Life website I found her recipe for slow-roast tomato pizza. I've made pizzas a whole bunch of times, so it was the slow-roast tomatoes that had me interested.
Gotta leave yourself a whole bunch of time to get these tomatoes roasted, and I've added a few more stages in here to make tomato sauce, pizza base and pesto, but using shop-bought substitutes for these would work great.
Thanks for the inspiration Vanesther!
Slow-roast tomato and pesto pizza (serves 2 with a side salad):
6 tomatoes
A ball of mozzarella
For the base:
325g plain flour
7g salt
½ teaspoon sugar
7g sachet yeast
About 250ml tepid water
4 tablespoons olive oil
For the tomato sauce:
½ tin tomatoes
1 clove garlic
Balsamic vinegar
For the pesto:
Bunch of basil, leaves and stalks
75g pine nuts
50g parmesan
Zest of ½ a lemon
Extra virgin olive oil
Turn the oven to 100°C. Pop the tomatoes on a baking tray, drizzle with a little oil and roast for about 6 – 7 hours, until shrivelled and glistening.
While they bake, stir together the dry dough ingredients, then gradually add water until it comes together to a stretchy dough. Knead for a further 10 minutes, drizzle with oil and cover. Leave for an hour to rise.
After an hour, punch it back and then spread out into a thin round. Get the oven on as hot as it will go. If you have a pizza stone, put this in too to heat up.
In a small frying pan, add a splash of oil and the garlic. After 10 seconds add the tomatoes and put on as high as it will go. Sprinkle with vinegar, sugar, salt and pepper and allow to reduce until getting thick (about 4 – 7 mins). Push through a sieve into a bowl and allow to cool slightly.
In a pestle and mortar bash up all the pesto ingredients until you have a thick paste.
Transfer your dough to the pizza stone, smear over the tomato sauce, dot with pesto and torn-up mozzarella. Arrange the tomatoes on the top and bake for about 8 – 10 mins, or until puffy and crisp. Eat immediately!