stuffed focaccia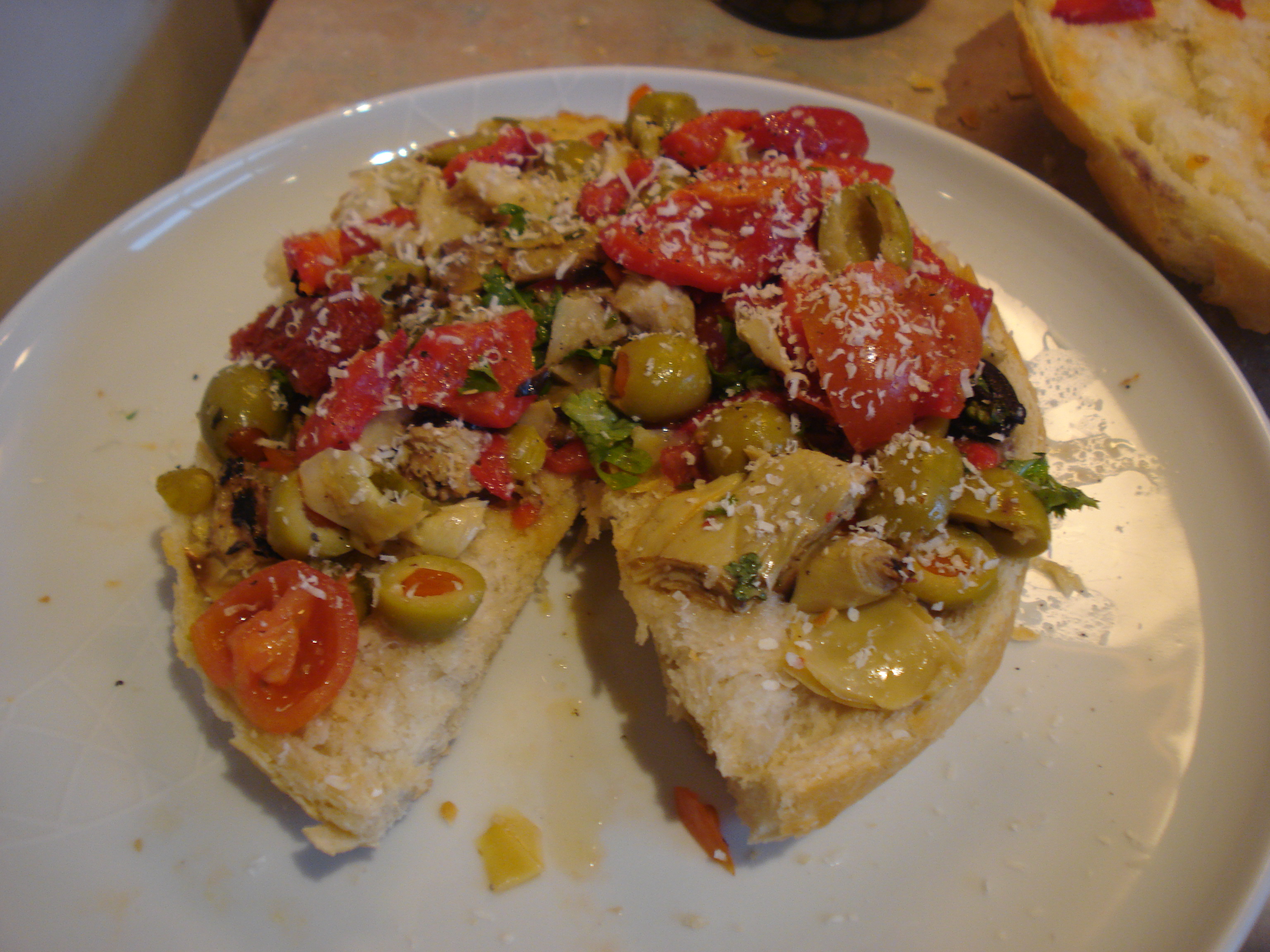 OK, OK, so it's not a focaccia. But the idea's there. It's actually a boule de campagne but serving the same purpose. Reminds me a lot of a muffuleta. (Obviously the sandwich in the pic is missing it's lid). It's a stunning feast from Jamie's 30 Minute Meals
.
I bloomin' love sandwiches like this, every mouthful's different. A deli in a bap! The remoulade is tangy and fun too, I'd recommend that alongside some barbecued meat on its own.
Jamie also served this with some mozzarella dressed with pesto and followed it with a grapefruit granita, but the two parts here are brill as they are.
Stuffed focaccia (serves 4):
For the focaccia:
1 large boule de campagne
450g jar of peppers
1 teaspoon capers, drained
Handful of sun-dried tomatoes
Handful mixed olives
A few cherry tomatoes, halved
3 or 4 cornichons
Small bunch of parsley
Half a lemon
Sprinkle of parmesan
For the remoulade:
600g celeriac
1 pear
Handful of parsley
1 teaspoon French mustard
1 teaspoon wholegrain mustard
2 tablespoons white wine vinegar
Get your food processor out and whack in the coarse grater. Peel and quarter the celeriac, then pass this, the pear and the parsley through the grater (you may have to do it in stages if the bowl fills up). Mix together the mustards and vinegar with some extra virgin olive oil and pour this all over the grated veg. Taste for seasoning and leave to marry together while you make your sandwich.
Pop the bread in a low oven just to gently warm through and get a lovely crust while you prepare the filling. Pop all the ingredients on a large chopping board and run through the lot several times with your longest knife. Keep going until everything is roughly thumb-sized – any bigger and it lollops out of the bap while you're eating. Squeeze over a lemon and pour over a little extra virgin olive oil, and spread the filling over your warmed loaf. Grate over some parmesan and serve with the remoulade.