15 minute golden chicken with potato gratin and greens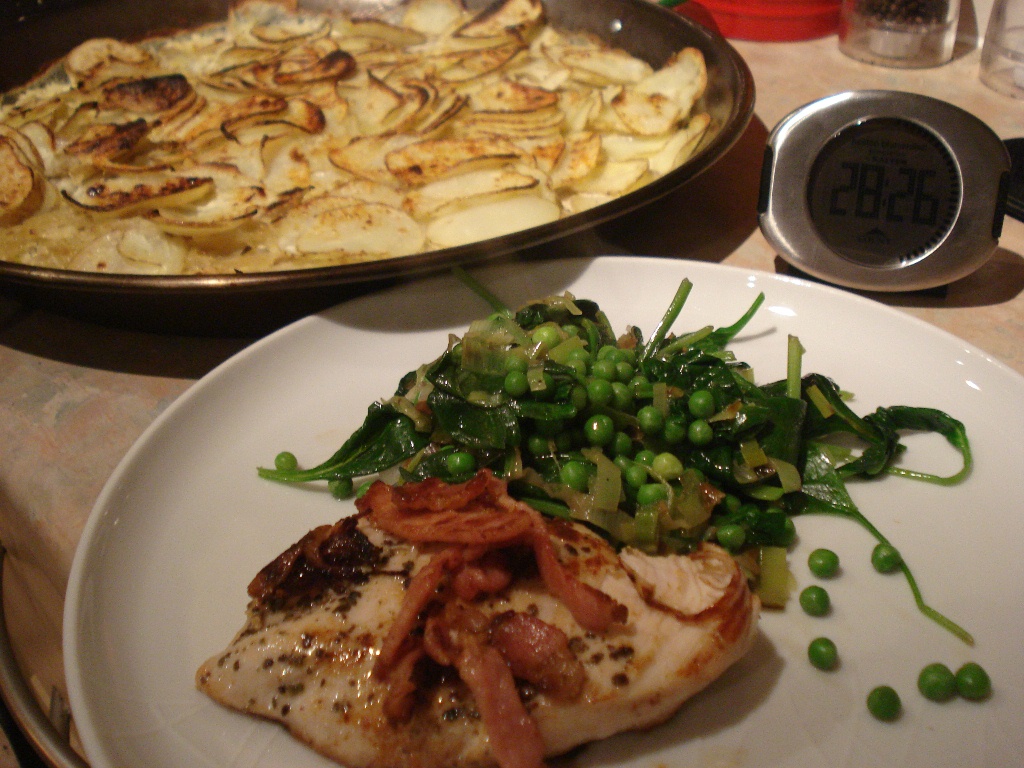 Jamie's 30 Minute Meals
was a literary behemoth, tearing up the records for fastest selling non-fiction book, and causing many snooks to be cocked in its direction. But for people willing to give it a proper chance, approach it with an open mind and "get in the 30 minute frame of mind" it was a way to push what you can achieve in a small amount of time. Aim higher! I was certainly taken it with it, and gave me some great ideas how to make the best use of your time. Take the food processor: previously left for weekend projects, I now employ it 3 or 4 times a week to chop, grate or slice things in a flash.
What's that coming over the hill, is it a monster, is it a monsterrrr? No, it's another Jamie book, poised to take over the world. And this time it's Jamie's 15-Minute Meals
. Yes, half the time. And the knives are already out in a pointless linkbait exercise. But I was approaching it with energy and excitement.
Flicking through, much like 30 Minute Meals there's a wide variety of cuisines that should satisfy your mood. There's an obsession with serving everything on wooden boards which I really like but isn't practical for most dinners. Towards the end of the book there's also a weird section that doesn't really belong, talking about muesli and other breakfast odds and ends. Granola aside there's definitely loads I will be trying over the coming months. I picked out a handful to try straight away and started with this golden chicken recipe.
I hit a snag immediately. Jamie juggles a frying pan, a saucepan and a baking tray on the hob simultaneously. I have a regular 4-burner hob, and this just won't fit. Maybe all the recipe testing was done on a 5-burner but this was automatically going to put my time back as I couldn't multi-task as effectively.
And this leads me on to another issue: there are no timings given for anything. It's just "do this, then this, by this time the first thing will be ready." But if for whatever reason you can't stick to the timeline you don't have a way of knowing how long things should take. If you are a confident cook this isn't a problem but I can see it being a real boundary for a lot of people.
These issues aside, the dinner was very good, although it took me 28 minutes. Best of all was capturing a really good potato gratin in 15 minutes, that really is impressive. So do try out the 15 minute recipes – but do read it all carefully before starting. And don't get hung up on the time and focus instead on creating great food quicker than you would expect. That's the key.
Golden chicken with potato gratin and greens (serves 4):
800g potatoes
3 onions
1 chicken stock cube
½ teaspoon dried sage (Jamie demanded fresh but I couldn't get any)
100ml single cream
30g Parmesan
4 chicken breasts
Fresh rosemary
2 rashers smoked bacon
1 large leek
200g baby spinach
200g frozen peas
Get a large saucepan filled with boiling, salted water over a high heat. Finely slice the potatoes and tip them in. Get a large roasting tray over a hob with a little oil in, and after passing the peeled onions through the food processor throw them in the pan. Crumble in the stock cube and sage, and stir often.
Spread out a large sheet of greaseproof and lay the chicken on. Scatter over some salt, pepper, sage and rosemary. Fold the paper over and using a rolling pin bash to about 1.5cm thick. Get a frying pan over a medium heat and fry the chicken in a little oil. Flip as they turn golden in colour.
Warm another pan and add a dash of oil. Wash and finely slice the leek, and then add to the pan. Get the grill on high and drain the potatoes. Tip them into the pan with the onions, spread into a single layer and pour over the cream. Grate over the parmesan and bung under the grill until the edges are catching golden brown. Slice the bacon and add to the chicken pan.
Add the spinach and the peas to the leek's pan, add some seasoning and toss well. Cover and leave until the spinach has wilted, and then serve the chicken with the greens and potato fresh from the grill.