sunday roast chicken with roast potatoes, carrots and brussels sprouts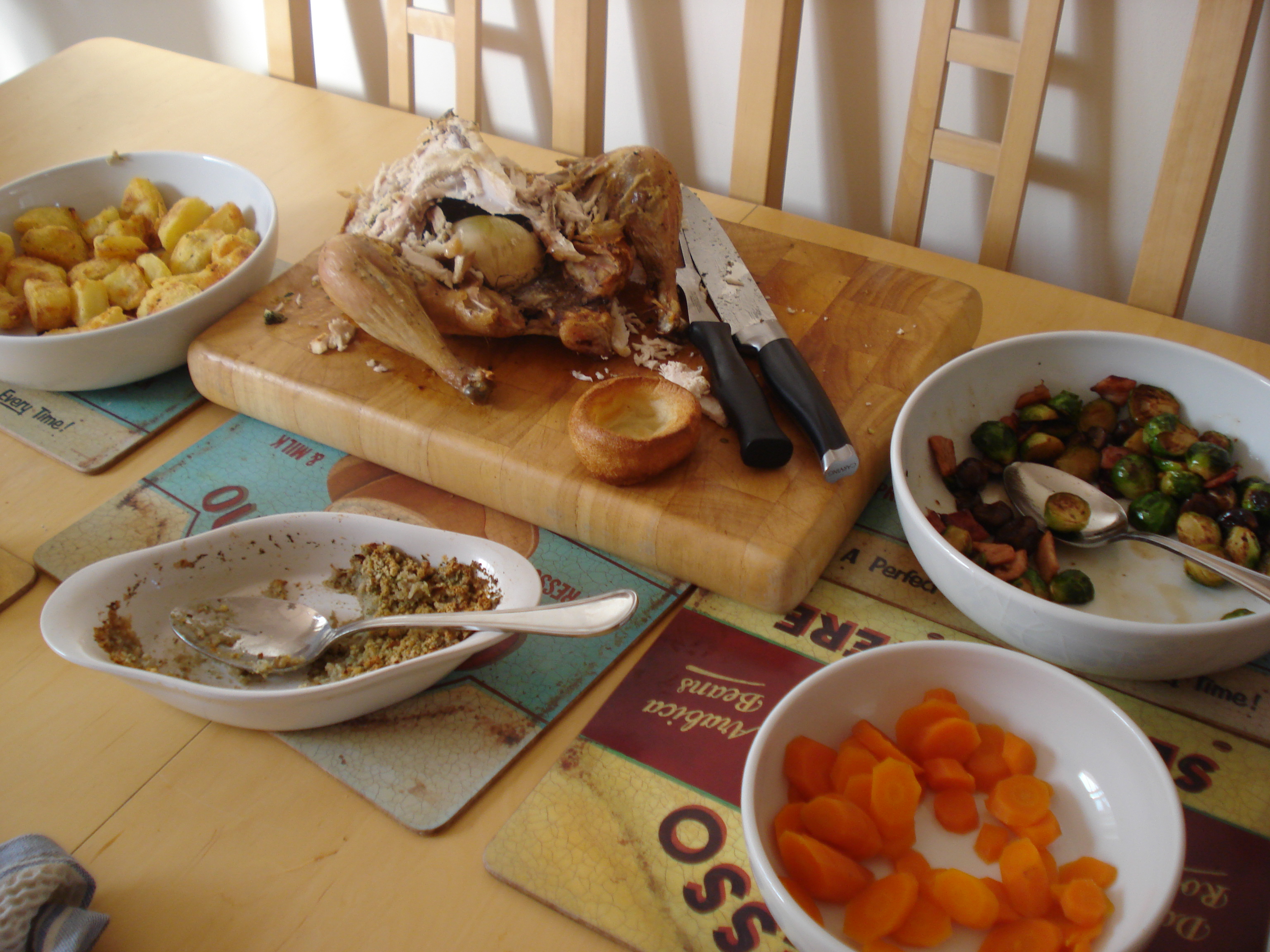 Sunday lunch is when you want to just go for it. I grew up in one of those lucky houses where my Mum cooked a Sunday roast every week without fail, and recently it's been nagging at me to do this much more regularly for my own family. But my Mum didn't have Twitter to distract her. Or Facebook. Or Dave Gorman's Absolute radio show. But I'm trying.
This is a fairly typical roast for me, and when you do more involved roasts with a few side-dishes, I think you should forgive yourself a few shortcuts. Why not use packet stuffing, or frozen yorkies? We all know you can make them, but the extra timing, oven space and graft is more worthwhile concentrating on getting the big stuff right. So I took a few liberties.
And I know what some of you are thinking. "Yorkies? With chicken?" Yes. They were made to float on gravy of any description. Try and stop me.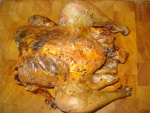 The chicken here was excellent, from those fine chaps at Farmers Choice. It gave brittle, savoury skin with plump and flavour-packed meat. A real treat.
If the thought of making a Sunday roast scares you, and just seeing that list of things is too daunting, don't panic. I bet you could cook all those things on the list individually. So it comes down purely to timing. If it helps, write a list. Start with the thing that takes longest to cook, and count things in from then – see below for a guide. Don't forget to allow the roast time to rest. But be bold, and always remember that the gravy will heat everything back up again 🙂
Sunday roast chicken with roast potatoes, carrots and brussels sprouts (serves 4 – 6, + leftovers):
1.6kg chicken
1 teaspoon dried marjoram
1 onion, quartered
20g butter
2 cloves garlic, minced
1 teaspoon parsley, finely chopped
500g white potatoes, peeled and diced into golf ball-sized chunks
1 tablespoon fine polenta
25g butter
2 bay leaves
Dash of red wine vinegar
3 carrots, peeled and sliced
250g brussels sprouts
100g cooked chestnuts
4 rashers back bacon, rind removed and reserved and sliced
1 tablespoon maple syrup
A few hours before, sprinkle the marjoram over the bird. Spread it all over generously with salt and black pepper, then place on a rack over a roasting dish and pop in the the fridge for about 3 hours. This step draws flavours down into the chicken, while at the same time drying out the skin to make it super-crispy.
Pre-heat the oven to 220°C. This temperature will really blast the skin and make it golden.
Get the chicken out of the fridge and add a few more flavourings: put 2 quarters of the onion inside the carcass and the other two on the base of the roasting dish you're going to use. Mix the butter, parsley and garlic together. Work your fingers under the skin of the chicken to release it from the meat, then slowly push the butter into this little pocket you've created. Put into the oven and leave there for 15 minutes, before turning the heat down to 180°C.
Meanwhile, get the potatoes on. Get a large pan of boiling water on and salt generously. Par-boil for 10 or so minutes, until a knife can slide in and out easily (I usually jab a knife into a wedge then suspend it above the water – when it can fall off within a few seconds they're ready). Drain well and leave to sit in the warm pan without a lid for a few minutes to steam dry. Put the butter with a splash of rapeseed oil into another baking dish and place in the oven to heat up. Toss the potatoes in the polenta and then tip out into the now hot fat. These are going to need about 45 minutes, which will cross over with removing the meat from the oven. When you remove the meat, turn the heat back up to 200°C for the potatoes' sake.
When the chicken is cooked (look for juices running clear when probed), remove to a wooden board and cover loosely with foil. Pop the roasting dish on a high hob and add a tablespoon of flour, stirring well. After a minute add about 300ml boiling water to cover the bottom of the tray and get scraping to get all that good stuff. Sieve into a jug for serving, and give it a short blast in the microwave to keep the heat up right at the end.
If you're using packet stuffing like me, you'll probably need to do the boiling-water-and-stick-in-the-oven thing here. Let the instructions on the box guide you.
When the potatoes have had about 20 minutes, add sea salt, a little white pepper, the bay leaves, red wine vinegar and the bacon rind. Return to the oven.
Get the carrots and sprouts on to cook. When you are cooking multiple veg I recommend a multiple-tier electric steamer. It gets everything going at once and frees up a space on the hob. The carrots will need around 15 minutes.
While the sprouts cook, get a frying pan on medium hot and add a little oil. Throw in the bacon and wait til it colours on one side before adding the part-cooked sprouts and chestnuts. Stir fry well for five minutes.
The potatoes might need a final blast of seasoning, otherwise they're good to serve. Take the chicken to the table, pouring any spare juice into the gravy jug, and get someone else to carve. You've done enough.
If you're using frozen yorkshire puddings, they'll need their 2 minutes in the oven now.
When the sprouts are tender, take them off the heat and add the maple syrup. Toss well to coat and serve, and don't forget the carrots!